------- End cut ----- Keyword META Tag: ------- Begin cut ------ ------- End cut ----- Description META Tag: ------- Begin cut ------ ------- End cut -----tome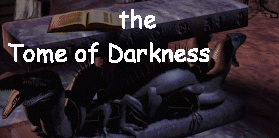 horror horror horror horror horror horror horror horror horror horror horror horror horror horror horror

Welcome, fearless one. You have uncovered the ancient grimoire called The Tome of Darkness. Here you will find tales that will make you shiver and give you nightmares for many nights to to come. My name is Bath'al and I will be your guide. Follow me into the darkness.....

Read these Tales of Terror:
A Watery Grave by J. Vandersteen
Visions of Terror by J. Vandersteen
20th Century Necromancer by J. Vandersteen
The Bloody Kiss Of Death by J. Vandersteen
The Color of Blood by J. vandersteen
Awaiting Death by J. Vandersteen
A Serpent's Tooth by J. Vandersteen
Locked Room Horror by J. Vandersteen (NEW!)
Someone is violenty killed in a locked cell, prompting hardboiled tabloid reporter Harvey Banks to investigate. What he discovers is beyond belief!

Visit Deadline
Read the horrifying adventures of Harvey Banks, tabloid reporter. In every story this tough-as-nails occult investigator faces the supernatural, macabre and fantastic!

SSubmit your own Tales of Terror or tell Bath'al what you like:
---
Join The Cult of Bath'al:
Sign My Guestbook
View My Guestbook
There have been

brave visitors here before you.

---
<!--S
Copyright © of this page 1998 by JvdSteen. All stories copyrighted by their respective writers.